..: May 2016 :..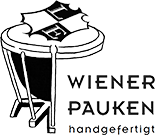 EXCLUSIVE SKINS FOR EXCLUSIVE INSTRUMENTES

Now and only avialable at only avialable at Wiener Pauken Produktions GmbH - premium goat parchment by "Gerberei EDLAUER" (www.trommelfell.at) - which we have processed and is provided with quality seal!
..: April 2015 :..
Due to our collaboration with the renowned japanese rental company for musical instruments Japan Winds it is from now on possible to rent our instruments in Japan. Should you be interested, we kindly ask you to contact directly Japan Winds by email rental@japanwinds.com!
..: November 2014 :..
It is a great pleasure to welcome Opernhaus Graz and Stadthauptpfarre St.Jakob, Villach as our customers!
..: Februar 2014 :..
We are very pleased to be able to announce, that as from February 1st 2014 the company "Wiener Schlaginstrumentenbau" (please visit www.wienerpauke.at) is part of the Wiener Pauken Produktions GmbH.
We warmly welcome our new customers!