About us Wiener Pauken Produktions GmbH
2005 Jointly founded with Manfred Kaufmann
January 2013 solely taken over by Anton Mittermayr
From the beginning it was our concern to continue the ways that the Viennese hand crank timpanis were build, starting with Hans Schnellar in 1894, then taken over by Richard Hochrainer and Wolfgang Schuster in innovative and traditional means.
Since June 2013 official timpani maker of the Vienna Philharmonic Orchestra
Registered company address
Our company in the beautiful Viennese District "Hietzing"
Anton Mittermayr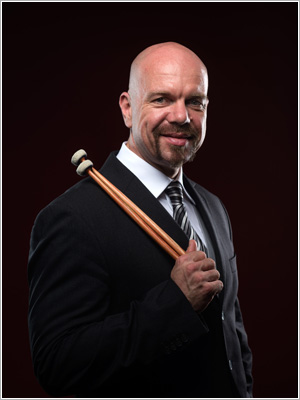 Anton Mittermayr was born in 1970 in Oberndorf (Salzburg). In 1982, he began to play the piano and from 1986 he began learning the organ as well. From 1988, he began taking percussion lessons with Alfred Steindl at the Linz city music school. After graduating secondary school, he began training to be a teacher in the subjects of music education and instrumental music education, as well as concert studies with percussion as a major subject under Prof. Horst Berger and Prof. Kurt Prihoda at the Vienna University for Music and Performing Arts.
He had already begun to gain experience during his studies as a substitute in Austria's leading ensembles, before joining the Vienna State Opera Orchestra in December 1995 as a timpanist. Since September 1996, he performed as a solo timpanist in the Vienna State Opera Orchestra and with the Vienna Philharmonic. Since September 1999, he has been a member of the Vienna Philharmonic Association.
In 2005, Wiener Pauken Produktions GmbH was founded for the production of Vienna hand-crank timpanis.
In addition to working as a soloist as well as in the widest range of chamber music formations – among others, he has been the solo timpanist at the Hormusikkapelle Wien since 2005 – Anton Mittermayr is also involved in educational work. Since 2012, he has been a percussion professor at the Konservatorium Wien, a private university of the city Vienna as well as a senior lecturer at the Vienna University for Music and Performing Arts. In addition he often gives international master classes in Japan, China, the USA, etc.